Waiting on Wednesday is a weekly event that is hosted by Jill at Breaking the Spine, which spotlights upcoming books that we eagerly anticipate and cannot wait to get here!
"The conspiracy of us" - maggie hall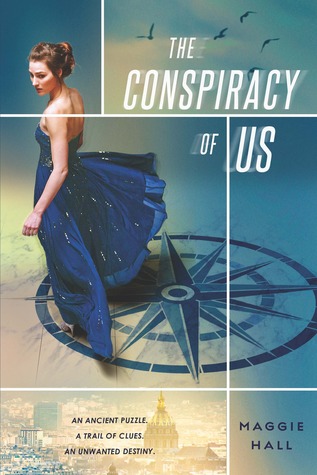 To fight her destiny as the missing heir to a powerful and dangerous secret society, sixteen-year-old Avery West must solve an ancient puzzle in a deadly race across Europe. Forbidden love and code-breaking, masked balls and explosions, destiny and dark secrets collide in this romantic thriller, in the vein of a YA DaVinci Code.
Avery West's newfound family can shut down Prada at the Champs-Elysees when they want to shop in peace, and can just as easily order a bombing when they want to start a war.
They are part of a powerful and dangerous secret society called the Circle of Twelve, and Avery is their missing heir. If they discover who she is, some of them will want to use her as a pawn. Some will want her dead.
To thwart their plans, Avery must follow a trail of clues from the landmarks of Paris to the back alleys of Istanbul and through a web of ancient legends and lies. And unless she can stay one step ahead of beautiful, volatile Stellan, who knows she's more than she seems, and can decide whether to trust mysterious, magnetic Jack, she may be doomed after all.
WHY AM I WAITING ON IT?
It has a SECRET SOCIETY. There's explosions. AND there's a race across Europe to solve a puzzle. I don't know about you but I was pretty much sold when I heard "Secret Society". It has a promise of YA DaVinci Code and I definitely think there should be more YA Thrillers out there.
WHAT ARE YOU WAITING ON THIS WEEK?