Shameless
by
Nina Lemay
~New Adult Contemporary Romance -- recommended for mature readers~
Girls like me don't get happy endings.
I know what I am. At worst a cliché, at best a cautionary tale. I put an international border between me and my past, only to wind up working in a low-end titty bar. Even my excuse is as lame as it gets: I'm paying for college, getting my art degree from Montreal's most prestigious school. Although some days it becomes confusing: am I just a student who moonlights as a stripper, or a stripper who masquerades as a student?
But the inevitable happens and my two lives collide. And now there's one other person who knows both the quiet, antisocial Hannah and the sensual, shameless Alicia. One person who keeps my secret.
He's beautiful, he's sophisticated. He comes from the other side of life, the one where I'm not wanted or accepted. But he calls me
la petite Américaine
, and his hot, hot hands on my skin promise me things I long ago gave up on.
The problem? He teaches my Classic Photography class.
This is a standalone novel, no series, no cliffhanger.
Guest post
Set in 18th century, The Story of Land and Sea tells us three different stories that are very much different but are all connected at the same time. It is stories of grief, loss, personal tragedy, and what it means to want to change everything but feeling hopeless in comparison to everything else.
Book begins with a story about a father and his daughter. Left all along, they try to live in a small city without a mother. I found it very sad but their relationship was incredible and I loved that little girl. The way author wrote about her really made me want to reach out and give her a hug.
This is definitely a book for the people that don't expect Happy Ever Afters. I don't want to give away any spoilers but it is sad. It's like listening to a beautiful melody and crying in tune because your soul just can't help it. This is a book like this. A real treasure to someone that waits to read about those raw emotions and deep stories that make us wish we could change it all for them. Beautiful and haunting - great read!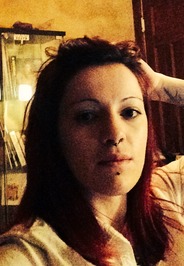 About the Author
Nina Lemay is a YA writer by day and author of sinfully twisted New Adult…well, also by day. She loves all things dark and edgy and never tires of tormenting her characters. While Nina is a fan of all things scary, Gothic, and fantastic, she doesn't shy away from a gritty contemporary romance when the muse strikes. She lives in Montreal, a city that never fails to inspire, with her partner and her dog.
a Rafflecopter giveaway