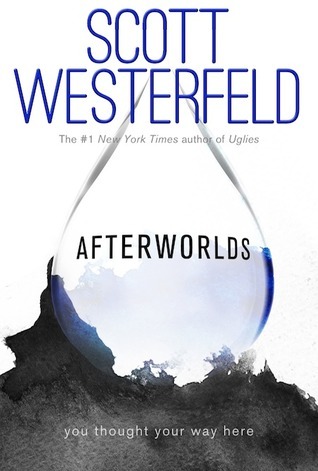 Afterworlds
by
Scott Westerfeld
Darcy Patel has put college and everything else on hold to publish her teen novel, Afterworlds. Arriving in New York with no apartment or friends she wonders whether she's made the right decision until she falls in with a crowd of other seasoned and fledgling writers who take her under their wings…
Told in alternating chapters is Darcy's novel, a suspenseful thriller about Lizzie, a teen who slips into the 'Afterworld' to survive a terrorist attack. But the Afterworld is a place between the living and the dead and as Lizzie drifts between our world and that of the Afterworld, she discovers that many unsolved - and terrifying - stories need to be reconciled. And when a new threat resurfaces, Lizzie learns her special gifts may not be enough to protect those she loves and cares about most.
Afterwords
is definitely one of the novels with a different style that I haven't been in contact before. Yes, I've read books that have multiple POVs, etc. but I have never read anything that has two different stories - both fictional and nonfictional. Both could be set in reality but have the tendency to be fictional.
On the first part of the book, we are introduced to Darcy Patel - she wrote the novel "Afterworlds" and was able to get a contract from a famous publisher. Now she has to move to New York and be the writer that everyone expects her to be. The second part shows us the actual book that Darcy wrote - "Afterworlds". When Lizzie has a near-death experience, she is transferred to the "flipside", the world of the ghosts and phychopomps. She has to learn how to control her abilities and of course, the hot Yamaraj can help her lead the way.
I really liked that the story has this alternation in it and thought that Westerfeld pulled it off perfectly. The book mentions Darcy signing ARCs at the BEA, the whole publishing process, and we can actually see how novels get published. I'm kind of curious if the author took his personal experience and added it into the mix. Darcy mentions that
"...feel like an impostor, like someone will tell me to get out because I'm not really a writer".
Both Darcy and Lizzie had that mature/immature personalities where they still made the decisions like a teenager would but stood their ground and tried their best.
Afterworlds
opened my eyes to a different writing style and even thought I didn't love the book, I definitely enjoyed reading it. The whole concept of ghosts sticking around because someone remembers them is awesome and river was a clever addition. However, there are a lot of questions that I still have about the book. The way it ended wasn't necessarily a cliffhanger but it sounds like there's going to be a sequel which will hopefully clear some things out.
I received this book free from Netgalley in exchange for an honest review. This did not influence my opinion in any way.