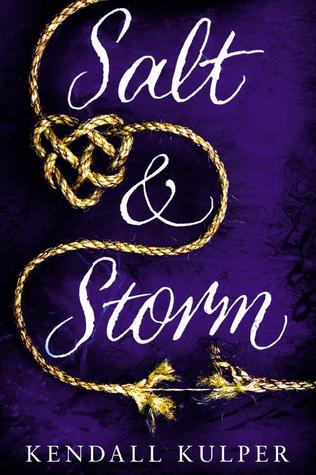 Salt & Storm
by
Kendall Kulper
Sixteen-year-old Avery Roe wants only to take her rightful place as the witch of Prince Island, making the charms that keep the island's whale men safe and prosperous at sea. But before she could learn how to control her power, her mother, the first Roe woman in centuries to turn her back on magic, stole Avery away from her grandmother. Avery must escape from her mother before her grandmother dies, taking with her the secrets of the Roes' power.
When Avery awakens from a dream foretelling her own murder, she realizes time is running short—for her and for the people of her island, who, without the Roes, will lose their ships and the only life they know.
With the help of Tane, a tattooed harpoon boy from the Pacific Islands, Avery plots her escape from her mother and unravels the mysteries of her mother's and grandmother's pasts. Becoming a witch may prevent her murder and save her island from ruin, but Avery discovers it will also require a sacrifice she never expected—one she might not be able to make.
"They were waiting for me. They were hoping for me. They knew I was their only chance..."
Set hundreds of years ago in time when people still asked for charms and went hunting whales,
Salt & Storm
is a story about finding your power through pain and trying to cheat fate.
Avery Roe is destined to be a witch. Coming from a line of witches who stayed on Prince Island and protected its people, she knows her future and who she is supposed to be. But her mother refuses to become a witch and takes Avery away from her grandmother in any hopes of learning more about the craft. Trying to force the life of wealth to Avery, her mother curses her so that she would not escape to her grandmother. When Avery gets a dream that she will be murdered, she needs to break free from her mother and find a way to escape. That's how she meets Tane, a foreigner with tattoos and beutiful body who says he can help. But falling in love and finding out that the only way to become a witch is through pain is a choice that Avery will have to make.
"I am their magic and their pain. I am their heir, no matter what my grandmother said about my suitability. I hear their voices, whispering to me in my dreams, giving me the advice they could never follow. And I listen..."
Salt & Storm
was an incredible read. With so many novels out there that focus on Paranormalcy and Witches, it's hard to find a story line that's unique and captures reader's eye. I loved the setting and the small island and all its people. Fishermen always fascinated me with their superstitious personalities and certain lifestyle. There was magic, love, pain, action. The way the author written this book, transported me into the situation and made me feel the emotions that the characters were going through.
Salt & Storm
is definitely a book to watch for.