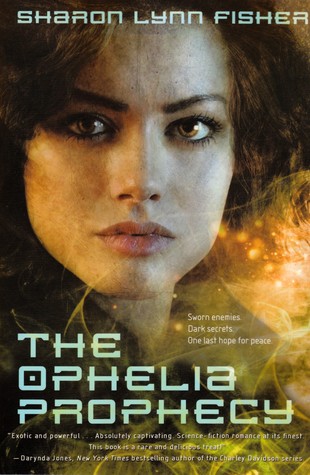 The Ophelia Prophecy
by
Sharon Lynn Fisher
New sci-fi romance from the RITA Award nominated author of GHOST PLANET!
* * *
Our world is no longer our own. We engineered a race of superior fighters -- the Manti, mutant humans with insect-like abilities. Twenty-five years ago they all but destroyed us. In Sanctuary, some of us survive. Eking out our existence. Clinging to the past.
Some of us intend to do more than survive.
* * *
Asha and Pax -- strangers and enemies -- find themselves stranded together on the border of the last human city, neither with a memory of how they got there.
Asha is an archivist working to preserve humanity's most valuable resource -- information -- viewed as the only means of resurrecting their society.
Pax is Manti, his Scarab ship a menacing presence in the skies over Sanctuary, keeping the last dregs of humanity in check.
Neither of them is really what they seem, and what humanity believes about the Manti is a lie.
With their hearts and fates on a collision course, they must unlock each other's secrets and forge a bond of trust before a rekindled conflict pushes their two races into repeating the mistakes of the past.
Thanks to Tor Books for providing me with a copy in exchange for an honest review!
"Whether her face, her body, her mind, or some combination, it was her. He'd told her that they shared a special bond, a bond he hadn't believed in until two days ago. Wasn't it a kind of sign? A sign that there was room for both of their speciaes in this aftertime?"
A thrilling and adventurous read,
The Ophelia Prophecy
is definitely on top of the list of Sci-Fi Romances. The romance itself wasn't your typical fall-in-love-with-first-glance type of love and the author definitely made a special effort to include the Scientific aspect of the story so it wouldn't look cheap. Yes, there was tension between main characters but I really liked how it grew with situations and time and allowed the reader to really follow their relationship with whatever happened to them.
Asha was the type of girl that didn't put up with anyone's sh*t and definitely stood up for herself. I liked that she still had a sense of humor and was brave, even after not remembering anything about herself. Pax was your typical hot man with that bad-boy attitude and confidence that just oozed from him. & let's not forget that he is half human, half animal so the hotness element may vary by your imagination ;)
Great writing and plot, this was definitely a great read and recommended for any Sci-Fi romance readers who like a little spice with their world building.