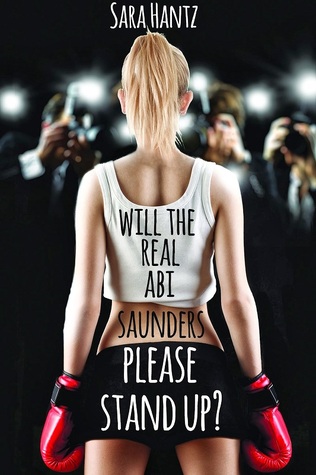 Will the Real Abi Saunders Please Stand Up?
by
Sara Hantz
Abi Saunders might be a kickboxing champion, but when it comes to being the center of attention, she'd rather take a roundhouse kick to the solar plexus any day. So when her trainer convinces her to audition to be the stunt double for hot teen starlet Tilly Watson, Abi is shocked—and a little freaked out—when she gets the job.
Being a stunt double is overwhelming, but once the wig and makeup are on, Abi feels like a different person. Tilly Watson, to be exact. And when Tilly's gorgeous boyfriend, Jon, mistakes Abi for the real star, Abi's completely smitten. In fact, she's so in love with her new life, it isn't long before she doesn't have time for her old one.
But when the cameras are turned off, will she discover running with the Hollywood A-list isn't quite the glamorous existence she thought it was?
With an interesting summary like
Will the Real Abi Saunders Please Stand Up?
has, it's easy to get blinded by it with the shiny cover and everything. Truthfully, it was an easy and cute read but was a little predictable. You have Abi Saunders, a kickboxing champion, who is shy and has a shuddering problem that gets worse around new people. So when she gets an offer to be a stunt double for one of the big stars, she is really nervous about how she might do. But with everything going great, fame goes straight to her head and soon she has forgotten what true friends have to be all about.
I wish that there was more action in this book. I love kickboxing (which is one of the reasons I picked up this book) & let me tell you - there are barely any in there. Abi is super badass, she can beat any guy but she is shy and super naive? Yeah I'm not buying it. & there was a moment when her friends started ganging up on her about getting more confidence and ditching them. Pff! Talk about not being supportive and little selfish.
So overall, with still being predictable & a little slow, this was a fast and easy read. Definitely meant for one of those days you want something light that will not clog up your mind. Writing itself is easy & very appealing to YA crowd.
Sara Hantz comes from the UK and now lives in Australia (via ten years in New Zealand). Sara lectured for many years before deciding to devote more time to her writing and working in the family business. She has two grown-up children and, when not writing or working, she spends more time than most people she knows watching TV--in fact if TV watching were an Olympic sport she'd win gold. She is also the author of In the Blood and The Second Virginity of Suzy Green.
a Rafflecopter giveaway