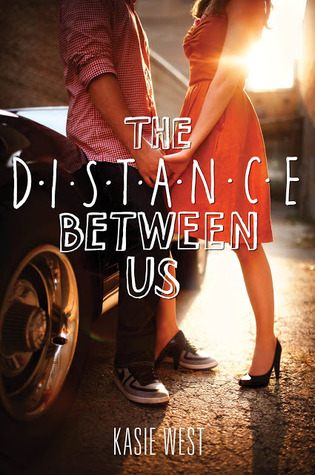 The Distance Between Us
by
Kasie West
Seventeen-year-old Caymen Meyers studies the rich like her own personal science experiment, and after years of observation she's pretty sure they're only good for one thing—spending money on useless stuff, like the porcelain dolls in her mother's shop.
So when Xander Spence walks into the store to pick up a doll for his grandmother, it only takes one glance for Caymen to figure out he's oozing rich. Despite his charming ways and that he's one of the first people who actually gets her, she's smart enough to know his interest won't last. Because if there's one thing she's learned from her mother's warnings, it's that the rich have a short attention span. But Xander keeps coming around, despite her best efforts to scare him off. And much to her dismay, she's beginning to enjoy his company.
She knows her mom can't find out—she wouldn't approve. She'd much rather Caymen hang out with the local rocker who hasn't been raised by money. But just when Xander's attention and loyalty are about to convince Caymen that being rich isn't a character flaw, she finds out that money is a much bigger part of their relationship than she'd ever realized. And that Xander's not the only one she should've been worried about.
From the very beginning I couldn't wait to read
The Distance Between Us
. Earlier in the year I've read author's Pivot Point & was blown away. But unfortunately it didn't feel like that with this one & I'm very disappointed.
Story begins with the dollhouse where Caymen works with her mother. They own the store and live upstairs. They're poor in a city with rich people.
can you see it coming?
So Caymen starts off talking about her dry humor, her mother, blah blah. But okay, I'll bite it, sounds interesting.
& then she meets
Xander
..
THE. MOST. BORING. & UNDEVELOPED. CONVERSATIONS. EVER.!!!!!!
I mean seriously... How can someone base SO MANY talks about hot chocolate? Makes me vomit just thinking about it.
He's rich, she's not, they fell in love but still try to play it cool because the author needs to fill out 300 pages of back and forth teenage bickering that noone really cares about.
Now that I think about it, I don't really know what the book was about. Ever had that happen? Oh yeah! Almost forgot.
The love triangle
.. That
almost
could have made this story good but it was pretty much nonexistent. Everyone just assumes that she's into the guy but just because she talks to him, DOESN'T MEAN SHE WANTS TO DO HIM!
Tired just writing about this book. & now I'm pretty sure I dislike it even more than when I finished reading it because I'm actually trying to retell the story. Gah