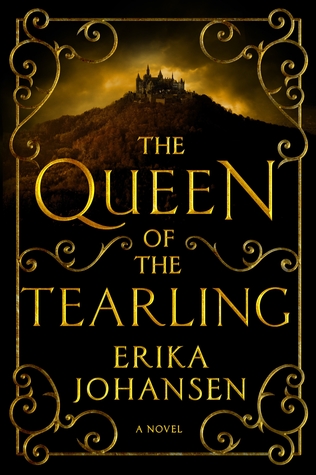 The Queen of the Tearling
by
Erika Johansen
On her nineteenth birthday, Princess Kelsea Raleigh Glynn, raised in exile, sets out on a perilous journey back to the castle of her birth to ascend her rightful throne. Plain and serious, a girl who loves books and learning, Kelsea bears little resemblance to her mother, the vain and frivolous Queen Elyssa. But though she may be inexperienced and sheltered, Kelsea is not defenseless: Around her neck hangs the Tearling sapphire, a jewel of immense magical power; and accompanying her is the Queen's Guard, a cadre of brave knights led by the enigmatic and dedicated Lazarus. Kelsea will need them all to survive a cabal of enemies who will use every weapon—from crimson-caped assassins to the darkest blood magic—to prevent her from wearing the crown.
Despite her royal blood, Kelsea feels like nothing so much as an insecure girl, a child called upon to lead a people and a kingdom about which she knows almost nothing. But what she discovers in the capital will change everything, confronting her with horrors she never imagined. An act of singular daring will throw Kelsea's kingdom into tumult, unleashing the vengeance of the tyrannical ruler of neighboring Mortmesne: the Red Queen, a sorceress possessed of the darkest magic. Now Kelsea will begin to discover whom among the servants, aristocracy, and her own guard she can trust.
But the quest to save her kingdom and meet her destiny has only just begun—a wondrous journey of self-discovery and a trial by fire that will make her a legend…if she can survive.
The Queen of the Tearling introduces readers to a world as fully imagined and terrifying as that of The Hunger Games, with characters as vivid and intriguing as those of The Game of Thrones, and a wholly original heroine. Combining thrilling action and twisting plot turns, it is a magnificent debut from the talented Erika Johansen.
With the seven-figure deal from Warner Bros, The Queen of Tearling already becoming one of the most popular books that has a lot of readers raving! It introduces us to
fantasy world with the great setup: a fictional European, feudalistic, medieval world.
Kelsea has been raised in secret since she is the only daughter of Tearling's last Queen. She was raised in the woods and got the skills that needed for a warrior. On her 19th birthday she is taken to the Capital City to be crowned. She is shocked to realize what position the country is in and she is willing to fight.
I loved Kelsea characters! She as witty and didn't have all that royal flaws that every girl in novels seem to have when she becomes someone important. Erika Johansen did an amazing job wit introducing us to the fantasy story that was exciting and really enjoyable.