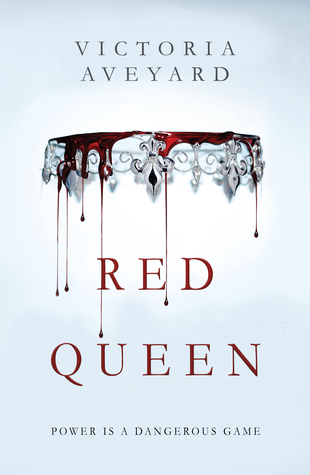 Red Queen
by
Victoria Aveyard
The poverty stricken Reds are commoners, living under the rule of the Silvers, elite warriors with god-like powers.

To Mare Barrow, a 17-year-old Red girl from The Stilts, it looks like nothing will ever change.

Mare finds herself working in the Silver Palace, at the centre of
those she hates the most. She quickly discovers that, despite her red blood, she possesses a deadly power of her own. One that threatens to destroy Silver control.

But power is a dangerous game. And in this world divided by blood, who will win?
Red Queen
was one of the books that highly said:
PROCEED WITH CAUTION!
just because it was buzzing through the bookish world months before it was released. With my experience, the books that get the most buzz are either going to be my favorite ones or I will hate them. In this case, I'm very torn because I am somewhere in the middle.
As the story starts, we are introduced to the world building which is pretty simple. You have this mixed between modern and 18th century feel to the society where the technology is advanced enough to have techy gadgets but there is still royalty & fancy dresses with their Queens and Kings and other "proper" politics. But this world is also a lot different since it is split between Silvers and Reds - the name coming from the color of blood that the people carry.
Silvers are in charge. Being special, they also possess some powers that show Reds that if they do not behave, they will be put into their place. But the war between the two kinds have been raging for awhile and even though the army mostly consists of Reds, there are a lot of arguments. I couldn't really understand the whole situation that well because the book didn't go very deep into it.
Mare belongs to Reds but since her flirting with the Prince, he decides to take her into the castle and portrayed her a Silver to bring some peace to politics and try to stop the war. Being betrothed to one of the Prince, she must be a part of the Silver Palace including training of the powers which she discovers are very powerful.
She is special. She is the One. As always.
And that is why I didn't really feel like it was that much special. Yes, the book cover made me fall in love with the book but the book itself made me realize that things simply will not workout between us. No matter how pretty the graphics are *pout*