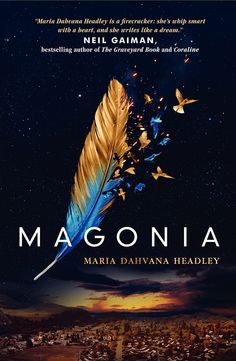 Magonia
by
Maria Dahvana Headley
Neil Gaiman's Stardust meets John Green's The Fault in Our Stars in this fantasy about a girl caught between two worlds... two races…and two destinies.
Aza Ray is drowning in thin air.
Since she was a baby, Aza has suffered from a mysterious lung disease that makes it ever harder for her to breathe, to speak—to live.
So when Aza catches a glimpse of a ship in the sky, her family chalks it up to a cruel side effect of her medication. But Aza doesn't think this is a hallucination. She can hear someone on the ship calling her name.
Only her best friend, Jason, listens. Jason, who's always been there. Jason, for whom she might have more-than-friendly feelings. But before Aza can consider that thrilling idea, something goes terribly wrong. Aza is lost to our world—and found, by another. Magonia.
Above the clouds, in a land of trading ships, Aza is not the weak and dying thing she was. In Magonia, she can breathe for the first time. Better, she has immense power—and as she navigates her new life, she discovers that war is coming. Magonia and Earth are on the cusp of a reckoning. And in Aza's hands lies the fate of the whole of humanity—including the boy who loves her. Where do her loyalties lie?
"Because every time someone finds a new animal, or a new amazing thing on earth, it means we haven't broken everything yet."
With an incredibly rare lung condition, Aza Ray is scheduled to die before her 16th birthday. But with only couple of days left, she knows that she is getting worse. And that's okay. Because she's lucky enough to live this long and to see her parents, sister, and best friend Jason by her side every single day.
When Aza sees a ship in the sky, she thinks she's hallucinating, again. But when it happens over and over, and suddenly hundreds of birds are on her lawn and one is flying into her lungs, it is more than hallucination, it is reality and what she finds when she opens her eyes after thinking she died, is a lot more than she might be able to handle.
"Death is the Santa Claus of the adult world. Except Santa Claus in reverse. The guy who takes all the presents away."
With an incredible writing,
Magonia
really was nothing I have ever read. I've seen a lot of reviews where they mentioned this but I really had to read it for myself. An entire colony of birds in the sky, a whole new possibility of the world we know and cannot see, it was really amazing. Also, since this was YA novel, I was expecting cheesy romance but even though there was a hint of love triangle, it was very genuine and I still enjoyed it. Jason was definitely was a lovable character, we all need to have a man like that in our lives.