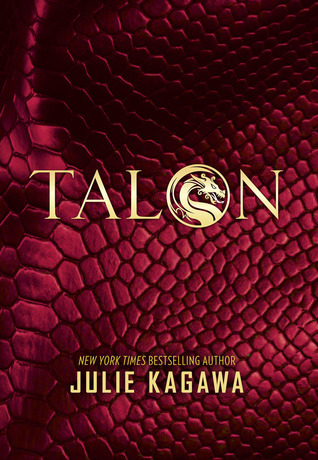 Talon
by
Julie Kagawa
Long ago, dragons were hunted to near extinction by the Order of St. George, a legendary society of dragon slayers. Hiding in human form and growing their numbers in secret, the dragons of Talon have become strong and cunning, and they're positioned to take over the world with humans none the wiser.

Ember and Dante Hill are the only sister and brother known to dragonkind. Trained to infiltrate society, Ember wants to live the teen experience and enjoy a summer of freedom before taking her destined place in Talon. But destiny is a matter of perspective, and a rogue dragon will soon challenge everything Ember has been taught. As Ember struggles to accept her future, she and her brother are hunted by the Order of St. George.

Soldier Garret Xavier Sebastian has a mission to seek and destroy all dragons, and Talon's newest recruits in particular. But he cannot kill unless he is certain he has found his prey: and nothing is certain about Ember Hill. Faced with Ember's bravery, confidence and all-too-human desires, Garret begins to question everything that the Order has ingrained in him: and what he might be willing to give up to find the truth about dragons.
"They wanted me to sit, listen, learn, be quiet,

when I wanted to run, shout, jump, fly."
Dragon aspect in any books is always intriguing because you don't know how the story will go, who will they kill, and what the situation actually is. In
Talon
, we see a whole secret society of dragons who learned how to take human's form to fit in and try to make sure that humans do not suspect anything. The organization that manages the whole society is called Talon but they might not be what everyone thinks they are. With ongoing war against the Order of St. George, they have managed to stay hidden and grow in numbers.
I would say that if I would have to judge the book by its originality and the whole idea of it, it would definitely be 7 out of 10. But the way Kagawa wrote it definitely felt more like a paranormal romance novel that included the dragon aspect of it but not really dug deep into it. With a cliche love triangle mixed with forbidden love,
Talon
still includes a lot of action but not enough to overlook the "I'm-a-teenger-I-do-What-I-Want" feel of it.
"Because you're exactly like me- you don't want your whole life planned out. You're tired of following Talon's rules, of not having any say in your future. You want to know who Talon really is, but it's even more than that, isn't it? You want to be free." His eyes gleamed, golden and brilliant in the shadows. "And I can show you how."
Ember, Dente, Garret, Riley - POVs of each one of these characters are bringing the story more to life. Ember herself was a little frustrating at times just because she wanted to have fun and didn't care at all about anyone around her. You would think that if you're in training to be one of the killers for Talon, you wouldn't want to kiss random "humans" around. Think my favorite was definitely Garret. Even with him being the enemy, I loved his personality. The emotions that he was feeling and the newness of them were surprising to him & he was just overall badass.
My overall thought?
Although this wasn't as perfect as I would liked it to be, I did enjoy listening to it as an audiobook and think I will continue with the series. I loved Garret and think I can overlook all the other flaws to see where the story goes.