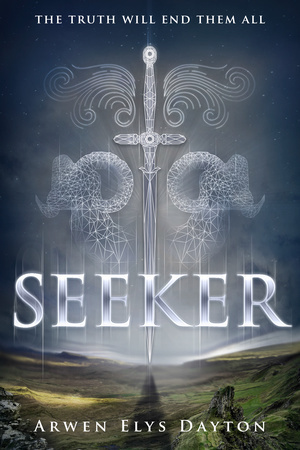 Seeker
by
Arwen Elys Dayton
Their Legacy is…A calling. An Honor. A lie.
The night Quin Kincaid takes her Oath, she will become what she has trained to be her entire life. She will become a Seeker. This is her legacy, and it is an honor.
As a Seeker, Quin will fight beside her two closest companions, Shinobu and John, to protect the weak and the wronged. Together they will stand for light in a shadowy world.
And she'll be with the boy she loves—who is also her best friend.
But the night Quin takes her Oath, everything changes.
Being a Seeker is not what she thought. Her family is not what she thought. Even the boy she loves is not who she thought.
And now it's too late to walk away.
Seeker was definitely one of the novels that made me lose time & engage in the story of Quin, Shinobu, and John. Although with starting out somewhat slow, I loved the history that was held behind it & the great research that author did in order to tell us the story that went on in Scotland and Hong Kong. I'm pretty curious about how the author chose these two places because I cannot think of any other places that could have been more different.
Story begins when Quin, her cousin Shinobu, and childhood friend John are in the middle of a fight. They have been training to take their oath as Seekers since young age and their whole life have been leading up to that moment. When John freezes up during training, Quin's dad sends him back. But one thing that he didn't know if that Quin and John have been in love for years and tried to keep their relationship away from the family. With following events, Shinobu takes Quin to Hong Kong & with her memory loss, she tried to remember everything that happened.
This was interesting. One thing that I really wish was established in the book more is the explanation of what the Seeker really is. It slightly grazes over it but I really wish it would tell us more about it. Third-person POV was good to read because we could see the different sides of the story and I really liked the characters. There was also some love-triangle going on. At some point you think that every one of character is a "villain" of the story and Quin goes between John and Shinobu. I understand how John could be in this but Shinobu was her cousin and I just thought that was a little weird.
Overall, this novel really turned out to be intense. I loved the story and cannot wait to see what happens next! Oh & YES! There will be a movie coming out based on this book! #fangirling
About Arwen:
Arwen Elys Dayton spends months doing research for her stories. Her explorations have taken her around the world to places like the Great Pyramid (which she explored by a single fading flashlight when researching Resurrection), Hong Kong and its many islands, and lots of ruined castles in Scotland. She enjoys creating complete worlds inhabited by characters who charm, frustrate or inspire.
a Rafflecopter giveaway