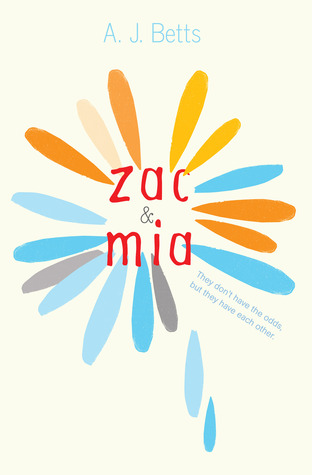 Zac and Mia
by
A.J. Betts
The Fault in Our Stars meets Eleanor and Park in this tough and tender young adult novel that's a lot about love (and a little about cancer).
Winner of the 2012 Australian Text Prize
"When I was little I believed in Jesus and Santa, spontaneous combustion, and the Loch Ness monster. Now I believe in science, statistics, and antibiotics." So says seventeen-year-old Zac Meier during a long, grueling leukemia treatment in Perth, Australia. A loud blast of Lady Gaga alerts him to the presence of Mia, the angry, not-at-all-stoic cancer patient in the room next door. Once released, the two near-strangers can't forget each other, even as they desperately try to resume normal lives. The story of their mysterious connection drives this unflinchingly tough, tender novel told in two voices.
Not completely buying the
The Fault In Our Stars
comparison, I tried to keep an open mind before starting to read
Zac and Mia
. With cancer subject, this was a lot more about friendship and less about romance. It was more about raw emotions and the process of being ill than about personal life.
"I don't deserve an award. I'm not a fighter and I'm probably not very brave. I haven't saved a kid from drowning, or sailed around the world. Playing three hours of Xbox a day doesn't make me a hero..."
The two main characters in this book are Zac & Mia (as you probably figured) who both have cancer and trying to beat it. It's interesting to see their reaction and their adaptation towards cancer. Zac is very down to Earth and always looks at times on the bright side. Even though he doesn't have high survival rate, he knows that it's just temporary and wants to enjoy life. Mia, on the other hand, is in denial and doesn't want to believe that she has cancer. Still hanging on to that believe that she will be back to her social life, she is trying not to think about it.
Mia was a very difficult character here. She's arrogant, lashes out on everyone who tries to get close to her and is being very rude towards Zac. I honestly cridged when she was talking just because I didn't want to hear it. But as the story progresses, she changes and really turns around. The concept of this book is having hope and accepting the changes. And it is
brilliant.
I received this book free from Netgalley in exchange for an honest review. This did not influence my opinion in any way.