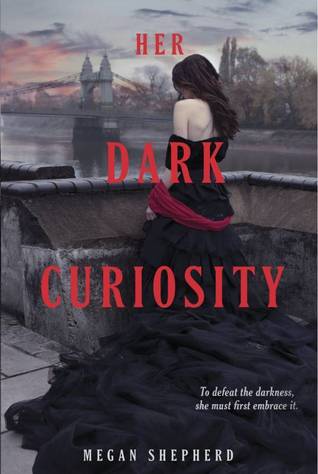 Her Dark Curiosity
by
Megan Shepherd
To defeat the darkness, she must first embrace it.
Months have passed since Juliet Moreau returned to civilization after escaping her father's island—and the secrets she left behind. Now, back in London once more, she is rebuilding the life she once knew and trying to forget Dr. Moreau's horrific legacy—though someone, or something, hasn't forgotten her.
As people close to Juliet fall victim one by one to a murderer who leaves a macabre calling card of three clawlike slashes, Juliet fears one of her father's creations may have also escaped the island. She is determined to find the killer before Scotland Yard does, though it means awakening sides of herself she had thought long banished, and facing loves from her past she never expected to see again.
As Juliet strives to stop a killer while searching for a serum to cure her own worsening illness, she finds herself once more in the midst of a world of scandal and danger. Her heart torn in two, past bubbling to the surface, life threatened by an obsessive killer—Juliet will be lucky to escape alive.
With inspiration from Robert Louis Stevenson's The Strange Case of Dr. Jekyll and Mr. Hyde, this is a tantalizing mystery about the hidden natures of those we love and how far we'll go to save them from themselves.
"Call it sentimentality. Call it curiosity.




Just don't call it madness."
Her Dark Curiosity
was the perfect follow up to the
Madman's Daughter
series. I actually think I liked it a lot better. Few months after Juliet returned from the island, she is now living with Professor who makes sure that she has everything she needs. No longer a maid, she is now considered an established lady who can marry without having any drama in her life. But then people start dying all around her. People that hurt her in the past. And she knows that this is personal.
When she sees Edward, one of the creatures that her father created, she knows that they are very similar. And while trying to figure out the cure for each other, the beast has to be in control. With so much political drama and the group of people hunting Edward, the monster within her might not be quiet for long.
"Sometimes you have to embrace the darkness to stop it."
First of all, I'm so glad that I decided to continue with the series. The first book was a little too slow for me but I realized that it was a perfect set up for the series. The amount of action in this book was perfect and I loved how fantasy met reality. The author shows us how crazy it would be for a woman to be a scientist back in those days and to actually work in the lab and do research had to be kept a secret. Juliet definitely did not disappoint and I really liked her. Even though there was a small love triangle going on, it was not cliche and still interesting.
Can't wait for the next book!!!