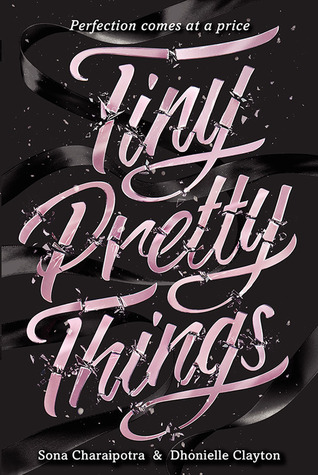 Tiny Pretty Things
by
Sona Charaipotra
&
Dhonielle Clayton
Black Swan
meets Pretty Little Liars in this soapy, drama-packed novel featuring diverse characters who will do anything to be the prima at their elite ballet school.
Gigi, Bette, and June, three top students at an exclusive Manhattan ballet school, have seen their fair share of drama. Free-spirited new girl Gigi just wants to dance—but the very act might kill her. Privileged New Yorker Bette's desire to escape the shadow of her ballet star sister brings out a dangerous edge in her. And perfectionist June needs to land a lead role this year or her controlling mother will put an end to her dancing dreams forever. When every dancer is both friend and foe, the girls will sacrifice, manipulate, and backstab to be the best of the best.
"Perfection comes at a price..."
With multiple POVs,
Tiny Pretty Things
makes us see ballet in a whole different way. With girls having such high hopes for a lead position, non-stop training, and backstabing at every corner, this is definitely an intense novel that's filled with drama. The only problem that I had with it is that it was a little too immature for me.
You have Gigi, Bette, and June who are completely 3 different girls going to a prestige and exclusive ballet school with dreams of becoming the lead for some of the largest pieces that are put on stage. But with the weight ins, family issues, and trying to keep your head up high at the same time, it is not as easy as it seems. When girls get hurt, they have come back up and show that they are worth being on stage because of their dreams and their family's dreams.
I was shocked at the pave in which this book was written. The characters made me wish that the society wouldn't be so hard on them but having them fight with their inner self and having all the confidence they could get was actually motivational. But the moments where those "teenage love" came out weren't for me. And I am not sure if it was the way it was presented or just me but I did not find them interesting. Overall, the book itself was a great read and I will read more from this author.