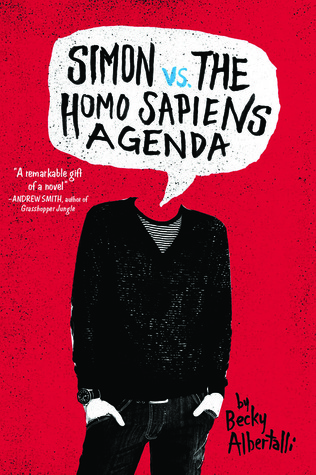 Simon vs. The Homo Sapiens Agenda
by
Becky Albertalli
Sixteen-year-old and not-so-openly gay Simon Spier prefers to save his drama for the school musical. But when an email falls into the wrong hands, his secret is at risk of being thrust into the spotlight. Now Simon is actually being blackmailed: if he doesn't play wingman for class clown Martin, his sexual identity will become everyone's business. Worse, the privacy of Blue, the pen name of the boy he's been emailing, will be compromised.

With some messy dynamics emerging in his once tight-knit group of friends, and his email correspondence with Blue growing more flirtatious every day, Simon's junior year has suddenly gotten all kinds of complicated. Now, change-averse Simon has to find a way to step out of his comfort zone before he's pushed out—without alienating his friends, compromising himself, or fumbling a shot at happiness with the most confusing, adorable guy he's never met.
Is there something wrong with it?
Because everyone on the Internet loved this book & I'm sitting here like...
mehhh.
Story introduces us to a sixteen-year-old Simon Spier who even though is not openly gay, is completely comfortable with it and just haven't found the right opportunity to announce it to his friends and family. Although emailing with a mysterious boy and getting more flirty is intriguing, he doesn't want anyone to find out. So when his classmate "blackmails" him into hanging out with one of his friends, he wouldn't want the emails getting out.
Let's stop right there..
Simon is great. Shy and funny and lovable character with great family and friends, he's into that "lovey-dovey" romance that many and
MANY
girls drool over.. But it was just not for me.
at all...
I actually got depressed while reading this book. Yup, that's how much I wanted to DNF it but had to finish because of the buzz it's been getting. Damn book buzz and it's incredible appeal to my visual senses.
So yes, let's just mark that into
it's-not-you-it's-me
category so I can go be happy again.