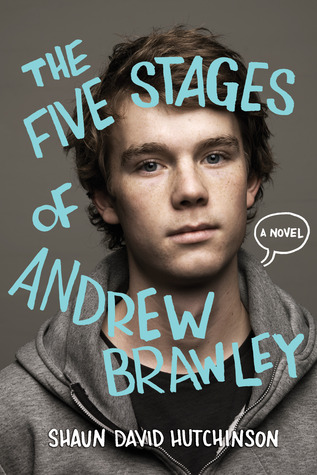 The Five Stages of Andrew
by
Shaun Hutchinson
Andrew Brawley was supposed to die that night. His parents did, and so did his sister, but he survived.
Now he lives in the hospital. He serves food in the cafeteria, he hangs out with the nurses, and he sleeps in a forgotten supply closet. Drew blends in to near invisibility, hiding from his past, his guilt, and those who are trying to find him.
Then one night Rusty is wheeled into the ER, burned on half his body by hateful classmates. His agony calls out to Drew like a beacon, pulling them both together through all their pain and grief. In Rusty, Drew sees hope, happiness, and a future for both of them. A future outside the hospital, and away from their pasts.
But Drew knows that life is never that simple. Death roams the hospital, searching for Drew, and now Rusty. Drew lost his family, but he refuses to lose Rusty, too, so he's determined to make things right. He's determined to bargain, and to settle his debts once and for all.
But Death is not easily placated, and Drew's life will have to get worse before there is any chance for things to get better.
"There's a hole in me. A gaping wound. Every part of me misses every part of them. And it never stops hurting. I can't bear the thought of missing you, too."
The Five Stages of Andrew Brawley
is a lot more emotional read that I expected it to be. With so much pain, loss, and grief, it is no wonder this is one of the book that I was mostly excited about in the new year.
"Life is about more than hate. It takes more than anger to make a hero."
He lost his family and could not stop blaming himself for it. There is no more life outside of the hospital for Andrew because everyone who he considered to love has died because of him. The stupid text that he just had to read while driving. But Death was late coming from him and now he tries to escape Her while living in the hospital and pretending to be one of the staff.
He makes some friends with the nurses and patients, especially Trevor and Lexi. And then there's Rusty. The most beautiful boy that Andrew have seen and who might make him want to live again. Although he was on fire. And the pain and memory of that fire does not escape the mind that easily.
"This hospital isn't my purgatory. It's my hell. The punishment I deserve. I will stay here until the end of my days. Until the sun finally sets. Until the worms rise up and devour me. Until Death extends her long-fingered hand and drags me away."
I'm sure there was definitely something wrong with Andrew. No one can escape the car accident and completely be normal and just walk away. I had to wonder if Death was actually real when everyone was seeing just a regular woman so it was interesting how it was a cross between reality and fantasy. All the characters were lovable, especially Trevor and Lexi. They were so simple but yet perfect for the story itself.
Comic strips between the story were a little off hand but I loved how they ended up playing at the end. Definitely haven't seen that coming & had the *gasp* moment. Just incredible!