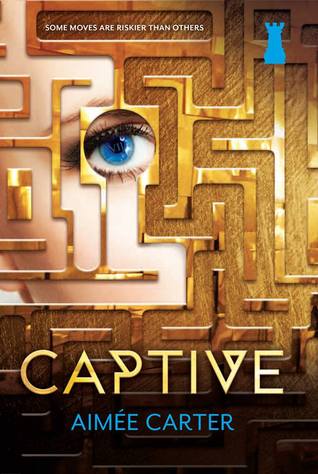 Captive
by
Aimee Carter
For the past two months, Kitty Doe's life has been a lie. Forced to impersonate the Prime Minister's niece, her frustration grows as her trust in her fake fiancé cracks, her real boyfriend is forbidden and the Blackcoats keep her in the dark more than ever.
But in the midst of discovering that her role in the Hart family may not be as coincidental as she thought, she's accused of treason and is forced to face her greatest fear: Elsewhere. A prison where no one can escape.
As one shocking revelation leads to the next, Kitty learns the hard way that she can trust no one, not even the people she thought were on her side. With her back against the wall, Kitty wants to believe she'll do whatever it takes to support the rebellion she believes in—but is she prepared to pay the ultimate price?
If you had something to tie you back to your old life, would you keep it or destroy it?
Captive
is a very worthy sequel to the first book
Pawn
. I really appreciate when book titles actually make sense and in this situation it definitely does. And I love it.
Something else I loved? Change of scenery.
Kitty is fed up with Knox having to treat her like she is a nobody and wants to live her own life with Benjy. When she decides to leave with him forever, she gets caught and after a serious of events, ends up in Elsewhere. It was mentioned in the first book that Elsewhere is not what everyone thinks it is. Whether you are a hardcore criminal or just stole piece of bread to feed your family, you live forever. And whoever is born there, stays there forever. Being able to survive in Elsewhere takes a lot of effort and skills and for Kitty, her face being Masked as Lily Hart definitely helps the situation.
Once in Elsewhere, the book picked up its pace. It was different and I loved it. The brutal details of Elsewhere and how everyone was treated there were incredible and I found myself flipping the pages nonstop.
Final thought?
Incredible follow up, I cannot wait until the next book comes out!
Captive
made me question the characters and not really know who is what side.