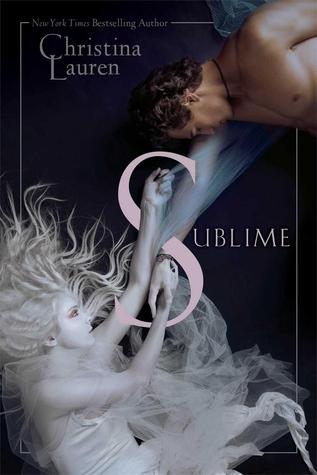 Sublime
by
Christina Lauren
True love may mean certain death in a ghostly affair of risk and passion from
New York Times
bestselling duo Christina Lauren, authors of
Beautiful Bastard
. Tahereh Mafi,
New York Times
bestselling author of
Shatter Me
calls
Sublime
"a beautiful, haunting read".
When Lucy walks out of a frozen forest, wearing only a silk dress and sandals, she isn't sure how she got there. But when she sees Colin, she knows for sure that she's here for him.
Colin has never been captivated by a girl the way he is by Lucy. With each passing day their lives intertwine, and even as Lucy begins to remember more of her life—and her death—neither of them is willing to give up what they have, no matter how impossible it is. And when Colin finds a way to physically be with Lucy, taking himself to the brink of death where his reality and Lucy's overlap, the joy of being together for those brief stolen moments drowns out everything in the outside world. But some lines weren't meant to be crossed…
Do you often get tricked into believing that the book is worth your time just looking at the cover? Do you stare at it with lovey-dovey eyes & want to devour every detail? Well congratulations! You're a visual person just like me but it also means that you find yourself disappointed with a lot of books. Including this one. Yay.
From the very beginning the story seemed to be very captivating and sort of mysterious. Lucy woke up discovering that it was a different season than she remembered it was and she seems to not remember anything about herself. Even though she didn't remember, she still felt a purpose, like she was supposed to be somewhere and do something. That's where she meets Colin and simply says: "I think I'm here for you". Yes, you guessed it right. She's a ghost.
Intrigued? You shouldn't be.
Nothing happens. They fell in love. Literally, it probably takes only few seconds. Their relationship is so puppy-love, it's like somebody asking if you think their baby is cute. You think it's actually one of the ugliest babies you've ever seen but it's a baby so you make yourself smile and say that it's cute while trying to convince yourself the same thing too. Colin in this book wasn't what I expected. He's supposed to be this insane guy who stares into Death's face & does incredibly extreme things but yet the way he acts makes him seem like a coward. Yes, a
coward
. Lucy has no back-bone either.
Think you can overlook the characters & still think you like the book because it has a pretty cover? Yeah I wish I can do that too. But unfortunately the story itself leaves a lot out. Like why is Lucy there? Authors give us some sort of explanation but a lot is left to guessing. Also, if she's getting solid all through the book, how did she pick up a pencil at the very begining? And opened the doors? I. AM. SO. CONFUSED. < whaaaaaaaaaaat!