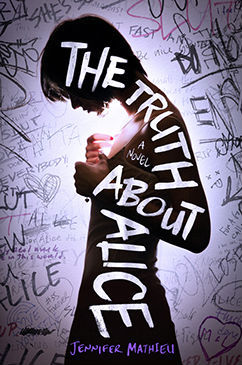 The Truth About Alice
by
Jennifer Mathieu
Everyone knows Alice slept with two guys at one party.
When Healy High star quarterback, Brandon Fitzsimmons, dies in a car crash, it was because he was sexting with Alice. Ask

anybody. Rumor has it Alice Franklin is a slut. It's written all over the "slut stall" in the girls' bathroom: "Alice had sex in exchange for math test answers" and "Alice got an abortion last semester."
After Brandon dies, the rumors start to spiral out of control. In this remarkable debut novel, four Healy High students tell all they "know" about Alice--and in doing so reveal their own secrets and motivations, painting a raw look at the realities of teen life.
But in this novel from Jennifer Mathieu, exactly what is the truth about Alice?
In the end there's only one person to ask: Alice herself.
"Alice Franklin is a slut."
This book was
powerful
. With multiple and ever changing POVs, it allowed the story to take a multi-dimensional spin that made us look from different angles. Because of the great writing, it was easy to follow the story while the characters stayed in their perfect personalities.
This story was about cliches. About high school and it's drama and how something small could turn around and blow out of proportion. The rumors could ruin someones life and
The Truth About Alive
really showed that.
"There is one thing I've learned about people: they don't get that mean and nasty overnight. It's not human nature. If you give people enough time, eventually they'll do the most heartbreaking stuff in the world."
I could not say anything more that wouldn't be as good as the other reviewers said about this book but I did really really love it. It made me sad, made me happy, and made me angry. Alice was definitely very likable and not reading from her POV made the story just that much stronger.
ARC was provided by the publisher in exchange for an honest review.