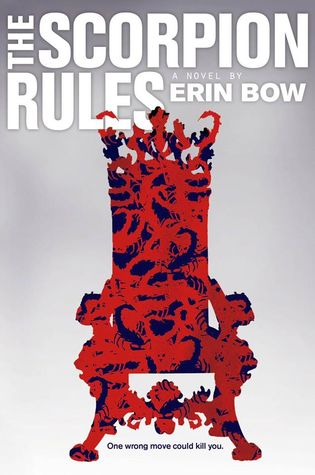 The Scorpion Rules
by
Erin Bow
The world is at peace,
said the Utterances.
And really, if the odd princess has a hard day, is that too much to ask?
Greta is a duchess and crown princess—and a hostage to peace. This is how the game is played: if you want to rule, you must give one of your children as a hostage. Go to war and your hostage dies.
Greta will be free if she can survive until her eighteenth birthday. Until then she lives in the Precepture school with the daughters and sons of the world's leaders. Like them, she is taught to obey the machines that control their lives. Like them, she is prepared to die with dignity, if she must. But everything changes when a new hostage arrives. Elián is a boy who refuses to play by the rules, a boy who defies everything Greta has ever been taught. And he opens Greta's eyes to the brutality of the system they live under—and to her own power.
As Greta and Elián watch their nations tip closer to war, Greta becomes a target in a new kind of game. A game that will end up killing them both—unless she can find a way to break all the rules.
"It was strange. We were from opposing nations that were at the brink of war. We were days away from dying for that war. And yet I would have done almost anything for Elián."
Based on an idea of post-apocalyptic world ruled by Talis, a high end artificial intelligence mind, the world now is focused on having worlds with kings and queens and Children of Peace. Whoever rules must give their child to be held as hostages and if they decide to go to war - the child dies. Greta and Elián are the main characters in this book and even though we are not introduced to Elián until later on in the book, his character left a strong impression on me.
It's interesting to see that this book is not really focused on someone that's evil and ruins the whole alliance and world system that is going on. Although Talis could be seen as an enemy, she is smart and witty and I actually came to like her. With trying to escape from the hostage-like environment while saving the world, Greta and Elián has to work together and be smart about everything that they face.