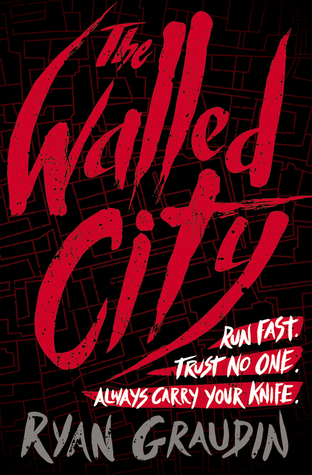 The Walled City
by
Ryan Graudin
There are three rules in the Walled City: Run fast. Trust no one. Always carry your knife. Right now, my life depends completely on the first. Run, run, run.
Jin, Mei Yee, and Dai all live in the Walled City, a lawless labyrinth run by crime lords and overrun by street gangs.
Teens there run drugs or work in brothels—or, like Jin, hide under the radar. But when Dai offers Jin a chance to find her lost sister, Mei Yee, she begins a breathtaking race against the clock to escape the Walled City itself.
*ARC copy was received from the publisher in exchange for a honest review.
This is a standalone.
Yes, I just wanted to point that out because there are so many Dystopia novels that have sequels and trilogies so it's refreshing to see a story end how it's supposed to end.
The Walled City
is an incredible book! It was full of actions, had great characters that were easy to love or hate and it made you want to keep reading.
This needs to be made into a movie.
Period.
The actual story is actually based on a real city. Kowloon was known as Walled City, based in Hong Kong. Just as in the book, it used to be a military fort that was highly populated and later was torn down and recreated into a New Kowloon which area is mostly a beautiful and peaceful park. I loved how the reality and fiction met in the place because it shows how author can take an idea and breathe area into it.
Book itself was told in three different POVs - Dai, Mei Lee, and Jin Ling. Every one of them has a different story. Jin Ling has been looking for her sister, Mei Lee, ever since their father sold her to a brothel in Walled City. She has to dress and act like a boy so that others wouldn't touch her. The only thing that's saving her is that she's fast. Really fast. And that's what Dai needs to escape Walled City and take it down.
This might have been the most detailed city that I have ever read about. Once you get familiar with the story, you can actually feel like you're there and where places are. One of my favorite things about
Walled City
is the relationship between the characters. Dai and Jin Ling have a bound but even after he finds out that she's a girl, there's no sobby emotions. He treats her with respect, as if she was his sister and he would do anything for her. That's why relationship with Dai and Mei Lee seems even stronger because even without saying much, you know that they meant to be with each other.
So
GO READ
the book! Just go. You'll love it :)